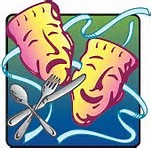 Building on two prior years of outrageous fun, it's time to take action and mark your calendars. This years hilarious, action packed Dinner Theater will take place this September. We are planning two evening venues (Friday 9/8 and Saturday 9/9). We will also be introducing a Sunday Matinee (9/10) to round out our theater schedule. Auditions will be held in early August. Interested members of the parish are invited to have fun and join our cast of characters.
Our first two years of SHJ Dinner Theater performances were all sell outs. No doubt this year will produce the same outcome. Detailed information on the play, the "who done It" concept, ticket sales, auditions and more will follow in the coming weeks via bulletins and parish web site.
Psst . . . . . . . . .this years venue will place our players in Mossy Bottom, Texas. Fun . . . . . .oh yea!!