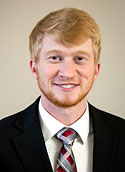 Hello, parishioners of Sacred Heart! I'm privileged to be able to write to you through our parish website. I'd like to thank you for all of your support for our seminarians! You supported now Fr. Nelson Rubio very beautifully through prayer and encouragement and I am very grateful that you have supported me in the same way. I truly do have more grandparents than all of the other seminarians combined!
My journey in the seminary is off to a great start. I am living at the House of Formation and I take classes at UALR and through Newman College in Wichita, Kansas. Fr. Taryn Whittington is the prefect of the House of Formation and is accredited through Newman College to teach us philosophy. I will also be taking online classes from Newman College through a system similar to "Skype" or "Facetime." I plan to earn a biology degree from UALR so that I can teach high school biology or continue my education to serve the diocese as an expert in bioethics or a similar field. We are very privileged to have the option to double major! Seminarians are also assigned to a ministry each year, and my ministry this year is to bring Holy Communion to an assisted living facility. I have grown to love the people there and I have loved the opportunity to serve in a small capacity as an extraordinary minister of communion.
Life in the seminary has been very formative, and it has also been very enjoyable! My brother seminarians and I have grown close and I have been able to spend lots of time with Bishop Taylor and Msgr. Friend. There is never a dull moment with those two around! When the weather cooperates, I ride my mountain bike so that I don't gain weight from all of the good food we have here. I'm really enjoying the balanced life that we get to live here!
The Lord has given me strength so far in my time here, but there are always new challenges. Please continue to pray for me and all of our seminarians that we may remain in the Lord and discern his call for our lives. We pray for you too! Again, thank you for all of your love and support.
Love,
Jonathan Semmler
Note: Jonathan's birthday is October 8, 1997