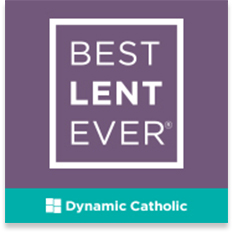 This Lent, Dynamic Catholic has a great opportunity for our parish - a free email program called "Best Lent Ever®." And guess what? The program is based on Matthew Kelly's new bestseller
Rediscover Jesus
- that's the same book you all received as you left Christmas Mass this past year!
Each day you'll get an inspirational email with a short video featuring Matthew Kelly and a member of the Dynamic Catholic Team. Throughout Lent, they will guide you through each of the 40 chapters in
Rediscover Jesus
and share simple ways to bring Jesus into your everyday life.
I hope you will all join me for this free program! All you have to do is sign up at DynamicCatholic.com/BestLentEver or
click here
to be directed to the website.
Let's do something life-changing this Lent. Let's take a 40-day spiritual journey to encounter Jesus - and ourselves - in a deeply personal way.

Join our parish community - and nearly 14,000 Catholic communities across the United States - in a life-changing Lenten journey with Catholic Relief Services (CRS) Rice Bowl. We journey with Catholic Relief Services Rice Bowl to the Central American country of Honduras where we meet students who are learning that it's better to help your neighbor learn and grow than to leave him or her behind. To whom are we called to extend a hand this week? Visit website
www.crsricebowl.org
for more.
During the Lenten season (in the Jubilee Year of Mercy), we invite everyone, either in small groups or individually, to grow in appreciation of the spiritual and corporal works of mercy through a work entitled, "Be Merciful," by Bill Huebsch. When done in small groups, it required no preparation for each session, and sessions will last around 45 minutes. You are welcome to form your own groups and meet at times and places that your group work out, OR you can join a group at church either on a weekday after Mass, or after one of the weekend Masses for the six weeks of Lent. Sign-up sheets are in the narthex. The cost of the booklet is $3 for each person who participates in this "Reflection" experience.
Tickets to the Ladies of the Sacred Heart Card Party are
NO LONGER ON SALE
. This yearly fundraiser is scheduled for Monday, April 18, 2016. Tickets are $7.00 each and are available from any Guild member.
The party is held in the church Lower Hall and has been a sell-out for the last few years. Doors open at 12:30 p.m. for the silent auction. There will be a 50/50 raffle and our famous gift baskets will again be offered as door prizes. For more information or to reserve a table, call ticket chair Carol Barrett at 922-0071.
Mi casa es tu casa. This hispanic saying holds a special meeting for us here in Arkansas. CASA, our Catholic Arkansas Sharing Appeal, is a way for all of us to make a difference right here at home. No matter your resources, your monthly support can fit your budget. It's not the amount of the git that is the most important. Become a CASA supporter today, return your gift/pledge in the envelopes provided.
Join us Wednesday, March 16, for Mary Lou's cream of broccoli soup with honey ham and Cheddar on a Sully Roll after the 5:30 p.m. Mass in the Lower Hall. A video will be shown, "Seven Deadly Sins & the Seven Lively Virtues" by Bishop Robert Barron. Sign-up in the narthex before Monday, March 14. Call Pam Cox at 915-0222 with questions.
This Sunday, February 21, 2016, the Knights of Columbus would like to invite everyone to their delicious parish breakfast after each of the Masses. New parish members will be our special guests. Biscuits, gravy, hash browns, sausage and eggs are on the menu. Breakfast is only $6 a plate and, as always, kids eat free. All breakfast proceeds are used to fund Knights charitable activities. Your support is appreciated.
The weeks are rushing by and soon it will be March 20, time to go to the Montserrat Retreat House and spend quiet time with God. Call Tom today and reserve your spot for this important time to spend without distraction with your God. Perhaps you need some of your special undisturbed time with your Maker in order to get the special instructions that He has been waiting to whisper in your ear. I know, you still have a couple of weeks before you need to commit, but why not admit that Jesus wants to talk to you, make the call and let Tom know that you want to make a reservation. It will end the turmoil in your thoughts and get you on the road to getting that special message and help that you have been hoping for. You will be glad that you have made the commitment. Call Tom today at 922-3062.
Archbishop Peter Sartain
The Arkansas Catholic Men's Conference will be held at Christ the King Parish in Little Rock on Saturday, February 6, beginning with a Mass celebrated by Bishop Taylor at 8:00 a.m., with registration beginning at 7:15. Principal speakers will be Archbishop Sartain and Dr. Allen Hunt. Cost is $40 to attend which includes a Continental breakfast and lunch. Numous priests will be available for Reconciliation. Call Chris Fray at 501-831-6094 with questions and additional information.
Sacred Heart of Jesus Parish Men's Club is sponsoring their annual Fish Bake to be held on February 12, 2016 in the Lower Hall. The menu includes Baked Domestic Tilapia, green beans, tater tots, coleslaw, rolls, butter and coffee. Additional beverages will also be available. As a special treat, there will be a selection of Father Bill's homemade ice cream for dessert. There will be two seatings: 5:00 and 6:30 p.m. Take-outs will also be available.
Tickets are $10 when purchased in advance, and $11 at the door. Children under 12 years of age are half-price, and children under six years eat free. Tickets can be purchased from members of the Men's Club after weekend Masses on January 30/31 and on February 6/7, or by calling Joe Lemmler at 915-0511. Don't be disappointed. Get your tickets early as seating is limited. Come, enjoy a great meal and good fellowship while helping the Men's Club with their support of local charities.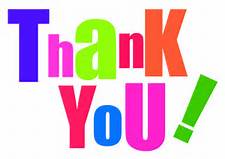 Thank you to all who praticipated in the 2015 Sacred Heart Basket Program! Without the many parishioners who contributed money to the basket fund and the shoe fund, effort in delivering the baskets, help in getting and distributing food from Project Hope and giving presents from the Angel Tree, we could not help our neighbors in need. Here are a few interesting statistics.
During the 2015 calendar year, we delivered 43 baskets at Easter, 22 during the summer, 46 at Thanksgiving, and 63 at Christmas for a total of 174 baskets. The families receiving the 174 baskets included 458 children with a total of 649 people helped.
We received a $12,230 in donations to the basket fund during 2015, and $999 in donations to the Village Outreach Shoe Fund.
At Christmas we gave 468 presents, most of which were from the Angel Tree, and 151 shoe certificates to the children in the families receiving baskets.
Approximately 65 volunteers delivered the baskets at Thanksgiving and Christmas, may of whom delivered for both holidays.
Thanks again for your continued, dedicated support in helping with this program!
Come, have some fun! You are invited to join the Sacred Heart Rosary Makers. We have lost some of our merry makers and are in need of new people who would like to learn how to make cord rosaries. It's fun and easy. Our ministry sends rosaries around the world. We meet each Thursday after morning Mass. Come or call Marge Newburn at 922-9047 to learn about this rewarding ministry.
Monsignor Bernard Malone will celebrate his 92nd birthday on Saturday, January 23. He will concelebrate Mass with Father Bill on that date at 4:00 p.m., and at the 10:00 a.m. Mass on the following day, Sunday, January 24. He will attend the Knights of Columbus breakfast after the last Sunday Mass. Please plan on attending the breakfast and help us sing "Happy Birthday!"
For those who send cards, Monsignor Malone's address is listed. Please make note of it for future reference: St. John Manor, 2414 North Tyler, Room 201, Little Rock, AR 72207.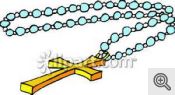 Before each Mass on the weekend of January 30/31, the Knights of Columbus will lead the congregation in rosary recitation. Each rosary will start 25 minutes before each Mass, Saturday at 3:35 p.m. and Sunday at 7:35 and 9:35 a.m. The purpose of these rosaries is to pray for our fellow Christians being persecuted in the Near East. All parishioners are urged to attend and participate in these prayers.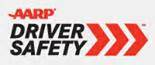 The AARP Driver Safety Program is scheduled for Thursday, February 4, 12:30 to 5:00 p.m. Sign-up for the one-day course in the A & E Building hallway. Class will be held in the Upper Hall. Bring your driver's license and AARP card, along with a check payable to AARP for $15 each for AARP members and $20 each for non-members. Call Gene Widlowski with questions at 922-5170.
Do you wish you could be with others who have suffered the loss of a loved one and just share what worked for you and what you still struggle with? There is such a place! We have scheduled two Grief Support Groups for anyone interested.
There will be a group
just for men
, meeting on Mondays starting
January 25
. We will meet at 10:00 a.m. This group will meet for six weeks in the Library for one and one-half hours. This support group is open to anyone; so, if you wish to attend, please make a reservation by calling Deacon John at 226-9035 to tell him whether you prefer mornings or evenings.
There will also be a group for
women meeting
in the Library on Tuesday Mornings at 10:00 a.m. beginning
January 26
. There will be six weekly sessions facilitated by Deacon John Froning and Martha Rogers. Each one will last one and one-half hours. If you know someone that is grieving and could use support, please invite them to attend. Those attending do not need to be a member of Sacred Heart Church. Since the size of the group is linmited, however, please make a reservation by calling Deacon John at 226-9035 or Martha Rogers at 501-580-1750.