Come join us for a tour of Lake Hamilton on the Belle of Hot Springs on Tuesday, May 6. We will car poor from the church parking lot, leaving at 11:30 a.m. The cost is $20. Send your check, made payable to Donna Creasy, at 6 Esplendor Way, HSV. Sign-up in the narthex. Call Ann with questions at 922-6963.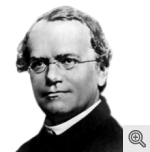 Next Friday, May 2, we will offer our monthly movie, "The Gardener of God", which is about a 19th century Augustinian monk and priest, Father Gregor Mendel who is considered the father of modern genetics. Come see this interesting story of a priest who combined his vocation as a priest and training as a scientist to impact the world in a far-reaching, positive way.

ALL Helping Hands Volunteers are invited to our third annual Helping Hands Appreciation Dinner on
Tuesday, April 29, 2014
in the Lower Hall. We will meet at 5:30 p.m. and dinner will be served at 6:00 p.m. Dinner will be catered by Home Plate. Please sign-up by calling Pat Widlowski at 922-1395 or by using the sign-up sheets on top of the cabinet in the A & E hallway under the Helping Hands slot. You are welcome to bring a spouse/guest, and we ask that you list the names and total number in your party on these forms. So that we can get an accurate count of those who plan to attend, we need these names and numbers
NO LATER THAN APRIL 27.
Please join us to celebrate all the good things you do - even if it has just been to wait for the call for the parishioners of Sacred Heart of Jesus.
The Divine Mercy nine-day Novena began on Good Friday and concludes with the Divine Mercy Holy Hour this Sunday, April 27, at 3:00 p.m. The messages of Our Lord to St. Faustina in private revelation were recorded in the saint's dairy. She noted that Jesus told here: "My daughter, tell the whole world about My inconceivable mercy. I desire that the Feast of Mercy be a refuge and a shelter for all souls, and especially for poor sinners. On that day the very depths of My tender mercy are open."
The nine-day Divine Mercy will be prayed in community in church on each day of the Novena as follows:
Easter Monday -
Easter Friday
9:00 a.m.
Easter Saturday
4:40 p.m.
We will celebrate the Feast of Divine Mercy with a Holy Hour at the hour of mercy, 3:00 p.m., Sunday, April 27. This will be followed by the movie in the Lower Hall on the life of the newly-canonized saint John Paul II (who initiated the Divine Mercy devotion). Pizza will be served during or after the movie. If you can't be with us all the days, you can pray it on your own at home or perhaps in our Perpetual Adoration Chapel.

PLEASE NOTE: A plenary indulgence has been granted for those who have gone to Confession and received Communion within 20 days, before or after, Divine Mercy Sunday, and have taken part in the devotions of the Holy Hour that day at 3:00 p.m.



Sacred Heart Singles will meet for Corporate Communion at the 10:00 a.m. Mass on Sunday, April 27. They will then meet in the parking lot for carpooling into town. Brunch will be at the Porterhouse Restaurant. Send your $20.00 check to Eileen Boecher, 20 Vilafranca, HSV, 71909. Sign-up sheets are in the narthex. For questions, call Ann at 922-6963 or Eileen at 915-9229.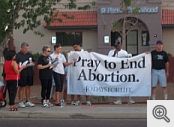 Since the campaign began on Ash Wednesday, six women came to the clinic in Little Rock for scheduled abortions, but left after talking to the sidewalik counselor. Seeing the "prayer warriors" convinced them to "choose life" for their babies. Our presence there does make a difference.
Sacred Heart of Jesus prayer warriors will be covering the vigil hours of 1:00 to 7:00 p.m. this Monday, April 7, 2014 at the Little Rock Planning Services, 4 Office Park Drive. If you have never prayed and witnessed in pubic before, it's not too late to join us. For information and to arrange a ride, call Mary Ellen Costello, 922-3915.
For addtional information go to
http://40daysforlife.com/littlerock.html
.
The annual Holy Thursday Parish Dinner will be held April 17 at 5:00 p.m. in the Lower Hall and is open to all parishioners and any family who might be visiting. The menu includes Apple Sausage stuffed Pork Roast, mashed potatoes, asparagus and a variety of Father Bill's homemade ice cream. The parish is paying $10.00 a plate, and will accept donations to help pay for the meal at the dinner. Reservations must be made on the sign-up sheet in the narthex; or, by calling the Churh Office staff at extension 10.
Deadline
for reservations is Tuesday,
April 15
.
Members of St. Anthony's Guild are sponsoring a bus trip to Branson, Missouri on November 2-5. A registration fee of $100, payable to St. Anthony's Guild, is due by April 10. Registration with deposit should be mailed to Rosemary Miller, 43 Excelso Way, HSV. Bus, lodging, four Christmas shows, shopping, meals (except two lunch meals while shopping) are included in your cost. SIngle: $590. Double: $465. Triple: $430. Quad: $410. Flyers, brochures and registration information is available by contacting Rosemary Miller at 922-5850 or Ann Krawczynski at 922-8665. Come join the fun and bring a friend!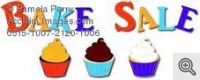 Homemade breads, coffee cakes, muffins, cookies and baked goods will be available for sale both outside and in the Education Rooms for Palm Sunday weekend Masses on Saturday, April 12 and Sunday, April 13. All Saints Guild invites you to come and support our fundraiser to help the needy in our area while at the same time enjoying some home-made baked goodies.
Our parish Men's Club members are sponsoring their annual Fish Bake to be held on April 11 in the Lower Hall. The menu will include baked domestic Tilapia, specialty green beans, tater tots, coleslaw, rolls and coffee. Other beverages will also be available from the Refreshment Center. As a special treat, there will be a selection of Father Bill's homemade ice cream availabe for dessert. There will be two seatings, 5:00 p.m. and 6:30 p.m. Take-outs will also be available.
Tickets are $10.00 when purchased in advance, and $11.00 at the door. Children under age 12 are half price and children under six eat free. Purchase your tickets from members of the Men's Club after weekend Masses beginning March 22 or by calling Bill Patterson at 922-6965. Don't be disappointed; get your tickets early as seating is limited. Come enjoy a great meal and good fellowship while assisting the Men's Club in their support of local charities.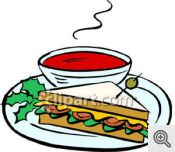 The Lenten soup, sandwich and video series will happen once again after the Wednesday 5:00 p.m. Mass during Lent. (Note: There will not be a 9:00 a.m. Mass during Lent on Wednesdays.)
If you plan to join us for the soup and sandwich meal, you need to sign up in the narthex on the
weekend before each
Wednesday; or, if necessary, you can call the Church Office at 922-2062 to give your name to Linda Daniels. Deadline is the Monday before the upcoming Wednesday meal.
As we move into the fifth week of Lent, we will watch a lively presentation of some teachings of our faith through the "What Catholics Believe" series.
Spring Tulip Extravaganza - Garvan Woodland Gardens
It's Tulip Time at Garvan Gardens, and the Sacred Heart Singles have arranged for a tour of the gardens for members and guests on Tuesday, April 8, 2014.
Meet at the church at 10:00 a.m. that day as we will begin putting car pools together at 10:15 a.m. The cost to tour is $10. If you need a golf cart tour of the garden, another $10. Call Ann at 922-6963.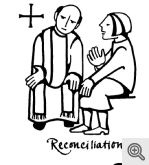 A Reconciliation Service will be held at Sacred Heart on Thursday, April 3, at 6:00 p.m. Many priests from the area will be attending to hear individual confessions. For the remainder of Lent, Father Bill will continue to offer the Sacrament of Reconciliation beginning 45 minutes before Mass, including Wednesday's 5:00 p.m. Mass, as well as 30 minutes before Friday's Stations of the Cross.
You are invited next Friday, March 28, after the 6:00 p.m. Stations of the Cross, to join us in the Lower Hall for a one-hour documentary on the life and ministry of Pope Francis. This documentary was funded in large part by the Knights of Columbus, and is a revealing look at Pope Francis in his years before becoming our Pope. Come enjoy it!