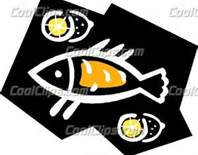 The Sacred Heart of Jesus Men's Club Annual charities Fish Bake will be held on F
riday, February 16, 2018
. Everyone is invited. There will be two seatings: 5:00 p.m. and 6:30 p.m. The doors will open 20 minutes prior to each seating.
The menu is Baked Domestic Tilapia, Tater Tots, specialty green beans, cole slaw, rye bread and coffee. We all need to eat fish on Friday during Lent; so, come join us at Sacred Heart in the Lower Hall for a great meal, and support our fundraising activity. Additional beverages will be available from the Refreshment Center. Donations are joyfully accepted. In addition, Father Bill's famous homemade ice cream will be available for a donation.
Tickets are $12 per person. Children under 12 years of age eat for $6, under the age of six years, no cost. Tickets will be sold before and after the Masses on the weekends of February 3/4 and February 10/11. Carryouts are available, and tables of eight can be reserved. For other information and tickets, contact Rick Martinek on his cell, 214-215-0133.